Pamela Niskanen
Bragato Research Institute is gearing up to 'evolutionise' Sauvignon Blanc, thanks to six scientists and a newcomer called PromethION.
Dr Darrell Lizamore leads the Sauvignon Blanc Grapevine Improvement Programme (Sauvignon Blanc 2.0) out of a laboratory at Lincoln University. He says the programme isn't traditional breeding, crossing or genetic modification, but a mission to sequence the DNA of New Zealand Sauvignon Blanc, looking for patterns of increased natural mutation that may help vineyards respond to future challenges. "Plants have an innate ability to change their own genetics when confronted with an environmental shock. If we can use this response to produce vines with different traits, then we could select those better suited to future viticulture."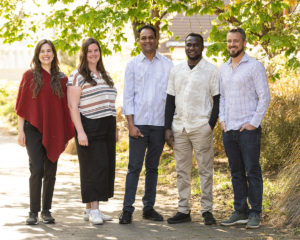 The seven-year, $18.7 million Sauvignon Blanc 2.0 programme kicked off in November 2021, with funding by the Ministry for Primary Industry's Sustainable Food and Fibre Futures group, New Zealand Winegrowers (NZW) and many winery partners. A year in, Darrell and his lab manager Dr Jessica Rivera Perez have been joined by Dr Ellie Bradley (epigenetics), Dr Bhanupratap Vanga (genotyping and phenotyping), Dr Solomon Wante (tissue culture), and Dr Annabel Whibley (bioinformatics).
They've also brought in the PromethION, a high-throughput third-generation sequencer uniquely suited to identifying the types of genetic changes that plants undergo in response to stress. It's the first of its kind in New Zealand, and a game-changer for the programme, says Darrell. "The goal is to detect differences in the genetics of the new vines earlier in their development, in much the way that new strains of Covid-19 could be tracked almost in real-time."
He's excited by the quality of his new team, who bring skills in new plant production, molecular biology, trait-based selection, and analysis of plant genetic data.
"We're fortunate to have managed to bring together a group of researchers with skills that are quite rare in New Zealand, and who are enthusiastic about building a modern crop improvement programme for grapevine."
Not a minute too soon. While growers know that climate change is happening, most of them are still planting the same Sauvignon Blanc on the same rootstock. It's like the science fiction 'doomsday' scenario in which people are chosen to start life on another planet. Humans are all the same species, but we'd aim for lots of variation within that, wouldn't we? Strong people, smart people, generous people, tiny people – we wouldn't just send a bunch of clones of one person. We wouldn't just send Bob, even if he's very nice, says Darrell.
New Zealand is getting warmer. The United Nations environment agency reported "there is no credible pathway to 1.5C" in place, and we may see a 1.8C increase by the year 2050. Higher temperatures bring changes in soil microbiome, pests, and diseases, as well as seasonal shifts. Authors of the 2021 Manaaki Whenua Landcare Research (MWLR) paper, Projected Wine Grape Cultivar Shifts Due to Climate Change in New Zealand, say that by mid-century in the Marlborough region for instance, four cultivars in their study would flower three to seven days earlier and reach sugar ripeness seven to 15 days earlier, depending on the greenhouse gas emission pathway.
For growers to maintain the same timing of key phenological stages, it would require shifting planting of cultivars to more southern parts of the country, or adaptation strategies, they say. The resounding message is, move the vineyards or change the vines, or both.
Sauvignon Blanc 2.0's main areas of focus are yield, resistance to fungal infection, frost tolerance, and water use efficiency. The golden ticket will be finding vines that have extra resilience and still produce the iconic New Zealand Sauvignon Blanc flavour profile.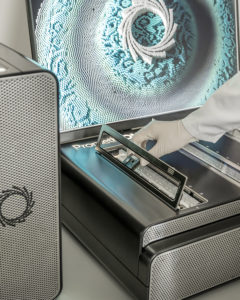 Speeding up that process is the PromethION, which according to its developer Oxford Nanopore Technologies (ONT) is capable of 'real time' sequencing. An ONT video shows an animated river of cartoon nucleotides pouring out of the nanopore material, and a tidy taxonomictree taking shape on the monitor. It's not that simple. Darrell says the machine does produce data in real time, but such enormous amounts they have to be sent away to a supercomputer and processed before they get useable results.
What 'real time' means to Jessica is that with nanopore sequencing, she'll start to get information within three hours of starting the run and will know if samples were prepped cleanly, if sequencing worked or if there was too much fragmentation – she can respond to situations by stopping and resetting at low cost. In traditional sequencing, she wouldn't know if a run worked until much later, costing $3,000 if a run had to start over. Jessica will optimise the workflow by using customised methods to prep grapevine leaf tissue and attempt sequencing of very large fragments of DNA with the PromethION, while using standard DNA preparations for short reads.
Now sit down and hold on, this is a bit technical but it's where the magic happens: the PromethION allows researchers to not only compare small, natural changes in the DNA and RNA from plant to plant, but to look at epigenetics. ONT's website explains: "Epigenetics, the study of heritable phenotypic changes that do not involve alteration of the nucleotide sequence, plays a key role in gene expression…". In lay terms this means two vines in different locations may have the same genes, but in response to their environment they've experienced epigenetic changes which cause their cells to turn certain genes 'on' or 'off ' and influence the traits they express.
Sauvignon Blanc MS (mass selection) scions from various sources will be sequenced. Most will be 'normal' healthy nursery stock, but not all – for example, viticulturists have been on the lookout for plants that have visibly mutated and/or are showing unusual behaviour. The intent is to find vines that are still genetic copies of the Sauvignon Blanc MS grown in New Zealand, but are better prepared for the future. Some plants will be failures, but Darrell says those are just as interesting as the successes. Some may have superpowers. Most of them will probably look and perform just like every other Sauvignon Blanc vine in the country – the 'Bobs' of the cultivar.
The testing phase will continue into early next year before the lab starts the daily grind of sequencing. During the first four years, the goal is to find up to 12,000 distinct variants of Sauvignon Blanc, screened for the different traits that the wine industry wants. The final three years will see a refined selection of these variants tested in vineyard trials. Once in the ground, the new variants will show their true nature – some may show resistance to trunk disease, others may show efficient use of water, and as they fruit, they'll give researchers an idea of their potential yield and frost tolerance.
Ultimately, Sauvignon Blanc 2.0 will create a living resource of plants that growers can turn to when conditions change. Lessons will be learned in seven years that would have taken decades under traditional propagation.
Imagine the nursery ads: Got stony soil? Plant SB 'Rock and Roll' Unpredictable last frosts? Plant SB 'Late Bloomer'. Got sharpshooters? Plant SB 'Vector Victor'. These may be protectable variants, and BRI might even produce a brand new, indigenous New Zealand varietal that makes wine unlike any the world has ever tasted.
Jeff Sinnott is National Technical Viticulturist for Constellation Brands New Zealand, a Platinum participant in Sauvignon Blanc 2.0. He is interested in questions such as: How might these new-to-market scions might play out in the community? Will growers invest in diversification? Who will be first and will others follow? Will turning over a few rows, or a full plantation to a new Sauvignon Blanc balance the losses of environmental change?
Jeff says the MWLR results are trustworthy, as winemakers have already observed seasonal changes of about a week per decade. So it is no surprise there is a long list of prestigious industry partners involved with Sauvignon Blanc 2.0 and primed for change. For centuries growers have tweaked planting decisions and vine management strategies, and modern winemakers in New Zealand will pounce on any new scions that make it to market after proven trials. After all, making wine is "like dancing on a moving carpet", Jeff says. "You just have to try and do the very best dance you can."
This article was first published in New Zealand Winegrower magazine issue 137 and is republished with permission.