New Zealand winery Loveblock has created an innovative Sauvignon Blanc that uses a green tea tannin extract as a natural preservative. First created in 2019, Bragato Research Institute's Research Winery has helped Loveblock refine the use of oenological tannins, specifically tannin extracted from green tea.
Founded by Erica and Kim Crawford, Loveblock's vineyards are based in the Awatere Valley, Marlborough and the brand is committed to low-intervention, sustainable and certified organic wines.
Erica had the idea for the preservative after hearing of innovations in her home country of South Africa, where research has seen some wineries successfully replacing sulphur with rooibos and honeybush tea extracts.
Ti Premium (Vason Enologica), a green tea tannin, has been on the market for some 14 years indicated for use with botrytised grapes. Following the chemistry, the pair trialled this product as an alternative to SO2.
"We believe this is the first wine in New Zealand, if not worldwide, to use green tea tannin extract as a unique alternative to sulphur."
Green tea is known for its potent antioxidant properties, contains tannins, and is a permitted wine additive. Loveblock TEE Sauvignon Blanc uses green tea tannin extract as a natural antioxidant instead of SO2, the traditional preservative used in wine. The wine's name – Sauvignon Blanc 'TEE' – means 'tea' in Afrikaans, in a nod to both Erica's heritage and the ingredients in the wine.
The trial
Loveblock's first in-house experiment where they added powdered tannin to the wine didn't go quite as planned. The wine went orange due to "pinking", oxidising while it travelled from the winery in the Awatere Valley to the bottling facility in Blenheim. After some months, the potent anti-oxidant action of the tannin clarified the wine.
They discovered the importance of keeping protected at all times. The final wine has tannin added at each stage of the winemaking process when the wine is exposed to oxygen, including harvest, crush, float, racking after fermentation, filtration, and bottling
They contacted Bragato Research Institute's innovative Research Winery to run a trial to test a number of exotic tannins for efficacy and sensory characteristics. The unique facility has custom tanks that can run four 17L ferments all controlled under the same conditions. They compared wine made with tannin from green tea, rooibos tea, honeybush tea and fermented honeybush. The trial did not include a control of no protection/addition or the standard PMS SO2 addition.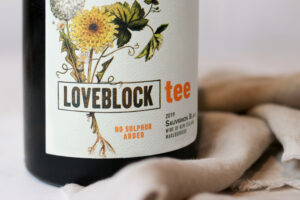 Loveblock used the Research Winery again in 2023, to create marketing comparison packs for international buyers on a small scale. They used the 200L ferment tanks to make batches of Sauvignon Blanc comparing no antioxidant, conventional PMS additions, and Ti Premium (the green tea-based tannin product). This allows buyers to evaluate the appreciate the sensory impact of all three parameters.
"We believe this is the first wine in New Zealand, if not worldwide, to use green tea tannin extract as a unique alternative to sulphur," says Erica Crawford, founder of Loveblock. "We are very excited about the prospects of this new way of winemaking – in our opinion, "softer" winemaking that excludes harsh additives, and many wine drinkers are now exploring the natural and organic wine category more than ever before."